POGO Automatic
You're good to POGO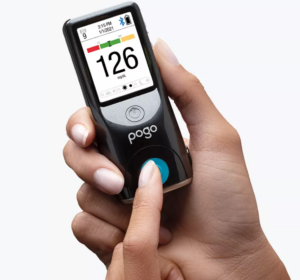 Get a no-cost POGO Automatic® Monitor with private health insurance (Medicare and Medicaid not currently eligible). And pay no more than $49.99 for up to 100 tests.
Why get a POGO Automatic®?
It's automatic—Amazingly simple one-step testing.
It's all-in-one–Lancets and test strips are inside each 10-test cartridge.
It's discreet—No more fumbling with test supplies or attaching something to your body.
And with GEM Edwards Pharmacy, you can:
Enjoy the convenience of free direct shipping with a monthly refill option.
One-stop shop for diabetes devices and prescriptions.
Trust the accredited online pharmacy committed to excellence.
To request your POGO Automatic®, simply enter your information below and GEM Edwards Pharmacy will be in touch to discuss your health insurance coverage, OR you can connect with a live representative by calling 1.866.552.5522, Monday–Friday, 8:30am-5pm ET, and Saturday, 8:30am-9:30am ET.