GEM Edwards Pharmacy's Parent Company, GEMCORE, Donates Medical Supplies to Humanitarian Response for Ukraine
Hudson, OHIO – March 15, 2022 – GEMCORE™, a family of companies, announced today it is sending medical supplies to support humanitarian response efforts in Ukraine and provide much-needed aid to hospitals in the capital city, Kyiv.
Over 12,000 medical supply items are on their way to Ukraine – including supplies for trauma care – to assist those wounded in the Russian invasion of Ukraine. GEMCORE teamed up with Integra Partners and shipped pallets of supplies to the WCH Service Bureau, who is coordinating the shipment to Ukraine.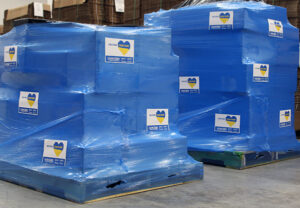 "We are deeply saddened by the escalating humanitarian crisis that has been evolving in Ukraine," said Matthew Edwards, GEMCORE's CEO. "Our company culture is built on care, not only for our customers and colleagues but for communities here and around the world. In these times, it is more important than ever to help where we can!"
Based in Hudson, Ohio, GEMCORE, a family of companies, is an industry leader of diabetes management solutions, mail-order diabetes supplies and medications, specialty third-party logistics as well as health coaching and disease management. Through its four divisions — Edwards Health Care Services, GEMCO Medical, GemCare Wellness, and GEM Edwards Pharmacy — GEMCORE serves patients nationwide
The Ukraine effort is another example of recent charitable contributions intended to provide support for our community, both globally and closer to home. During the pandemic, GEMCORE was honored to donate thousands of silicone wound dressings to University Hospitals and the Cleveland Clinic to help frontline healthcare workers experiencing friction injuries from wearing personal protective equipment (PPE). To assist those struggling with food insecurity locally, GEMCORE donated 100,000 meals to the Akron-Canton Regional.
###
---
---