Let's work together for the health of your patients!
Our goal is to provide your veterinarian practice quick turn around and free standard shipping on personalized medication for your patients.

NEW CUSTOMER SPECIAL!
$1 MEDICATION + FREE SHIPPING. Limited time only. On your first order with GEM Edwards Pharmacy*
Your Trusted Compounding Pharmacy with thousands of veterinary compounded medications available. No pet is the same, that's why we offer multiple dosage forms, strengths, and flavors.  
Our Top Veterinarian Compounded Medications

Advanced

Dosage Forms
Your patients are no longer limited to just taking a pill. With our advanced forms, we are able to provide medication to meet your patients' specific needs. Some key advantages can include:
Ease of use

Faster symptom relief

Reduce swallowing difficulties

Improve compliance
         

 Capsules
         

 Chews
         

 Oral Liquids
         

 Otic Preparations
         

 Powders
         

 Tablets
         

 Transdermal Creams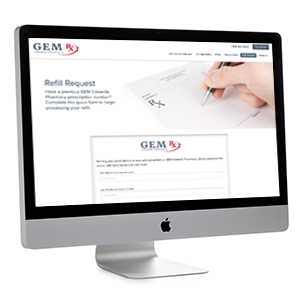 EASY
Online Refills
Do you have a prescription number previously filled by GEM Edwards Pharmacy? Quickly refill your prescriptions online in a few simple steps.

Need a medication not listed or a different dosage form?
Contact Us