Why Do People Love the Medtronic InPen™ Smart Insulin Pen?
The InPen™ is a reusable smart insulin pen that uses Bluetooth® technology to send dose information to a mobile app. Offering support with dose calculations and tracking, the InPen system helps take some of the mental math out of your diabetes management.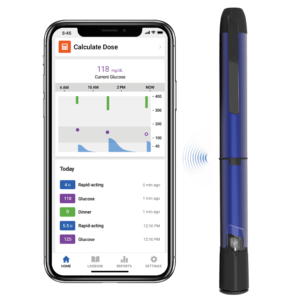 The InPen app uses your glucose and carbohydrate levels to recommend the correct insulin dosage for you! It also considers the amount of active insulin still in your body to help avoid lows.
Worried about missing insulin doses? No need to be! The InPen app lets you set reminders to take your insulin at mealtimes.
Not sure about the amount of carbs you can eat in a meal? The InPen app helps you calculate your insulin dose based on meal size or fixed dose option.
The InPen app tracks all your dosing information on your smartphone; no need to worry about forgetting to record a dose. Plus, all your dosing reports can easily be shared with your healthcare team!
Real Customers. Real Insights.
"I love the dosing recommendations. It allows me to keep on track so I'm not taking too much insulin and then having to deal with lows."

Iaishia*, living with type 1 diabetes
"The InPen gives me so much freedom. I don't have to be connected to anything 24/7."

Mattie*, mom of two, living with type 1 diabetes
The InPen is a reusable insulin pen for people living with diabetes. It can be used to deliver insulin, help calculate insulin doses, and estimate carbohydrates for meals. Those under the age of 7 should only use the device with an adult's supervision. A healthcare provider must prescribe InPen, provide dosage settings, and discuss all potential benefits and risks. Using the device with incorrect therapy settings may lead to severe highs and lows. The InPen is should not be used by those unable to test blood glucose levels or the visually impaired. For additional product and important safety information, go to MedtronicDiabetes.com/InPenSafety.
The Bluetooth® word mark and logos are registered trademarks owned by Bluetooth SIG, Inc. and any use of such marks by Medtronic is under license.
*This individual was compensated for their time. Their thoughts and opinions are their own. Individual results may vary.
---
Tags: diabetes, diabetes management, inpen, insulin, insulin therapy, medtronic
---
Related Articles